Most Popular Horse Racing Offered by Bet365 – Free Wager
The horse racing will reach its climax on November 5th at Doncaster. It is speculated to be a dramatic day having plenty of horse which are capable of winning on that day. You can take advantage of the bonuses by Bet365 for the upcoming Horse Races.
The races will be shown live on Channel 4 locally and the BBC network. This great promotion applies to the wagers made after 10am.
The Horse Racing promotion offers a free wager on the same stake race, after you place a wager for a winner with 4/1 or betting odds on a UK or Irish race. Also, Bet365 offers the Best Odds Guarantedd to all players, the Bet365 will pay out the larger odds, after you place the wager and the starting prices ends up getting bigger.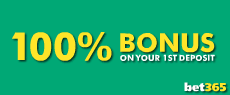 Leave a Reply
You must be logged in to post a comment.